Apple Logic has always been a staple amongst most audio pros. It facilitates the best of both worlds by being a robust music creation tool as well as full on mixing and editing program.
The newest version, Apple Logic X, may be the best yet. Logic X has the ease of use of its "little brother" Garageband and still maintains the capabilities to complete complex tasks. Aside from a sleek new design look, Logic X's main new fetures inlcude 'Drummer, a plugin that plays complex drum patterns to match your tracks; a vast expansion of the sound library; and a revised version of its famous 'Alchemy' synth to name a few.
If you're looking for an all around DAW Logic Pro X is definitely software you should be looking at.
Pro Tools is literally the standard for DAWs so much so that lay people use it as a generic noun to describe any digital audio program. And that's with reason, almost every mainstream music, movie, game etc. over that las decade or so has probably been processed in Pro Tools at some point in time. It is the industry standard of digital studios, and even if its not your favorite, if your an audio professional then you need to become proficient in this program.
Pro Tools has come a long way since its earlier versions. It was previously focussed on being being solely a recording, editing and mixing software. Now on its 12th version, Pro Tools has progressed into full on production suite with a vast array of features produce whatever your imagination can fathom. The latest version has also made a significant change in the way you can acquire the software. Instead of buying Pro Tools outright, Avid now enables users to subcribe for a low monthly.
Although Pro Tools is a lot to digest for beginners, it's definitely a must have if you want to be taken seriosuly as a music production professional.
While many of the programs on this list have been around for decades, Bitwig is a newcomer launched in 2014 by by former Ableton developers. But don't let its newness fool you, since its release Bitwig has broken through and gained a real following.
Because of its look and feel and its developers Bitwig was predestined to constantly be compared to Ableton Live. However, Bitwig is far more than a simple knockoff. Its fresh new take on the Clip and Arrange views make for an improved and seamless workflow. And its amazing approach to modulation coupled with a vast instrument catalog makes it a serious force to reckon with.
Bitwig may be new on the DAW scene, but it has already proven to be a worthy candidate for both seasoned audio as as well as newbies.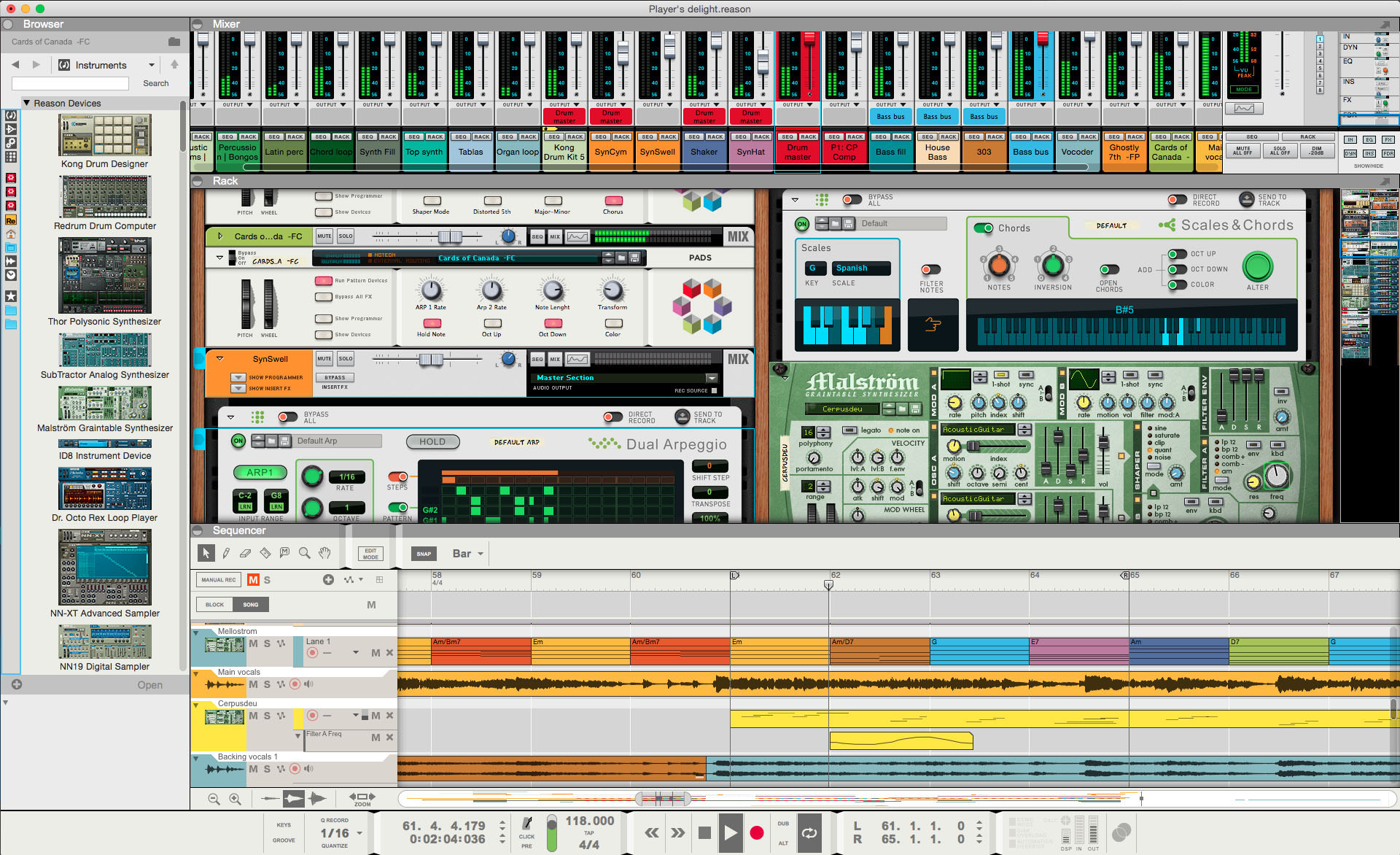 Reason has long been a favorite for electronic music producers who create everything in the computer. And that's for a good reason (sorry we couldn't resist).  The rack setup is a simple interface that most beginners can quickly understand, but still capable of being advanced enough for pros.
Originally Reason was not a full blown DAW as it lacked recording capabilities. However, the latest version has now evolved to include all the standard features of a complete DAW, and users can still use it as a standalone in other DAWs as well.
With its low learning curve and ability to work within other workstations, Reason is almost a must have for all electronic music producers.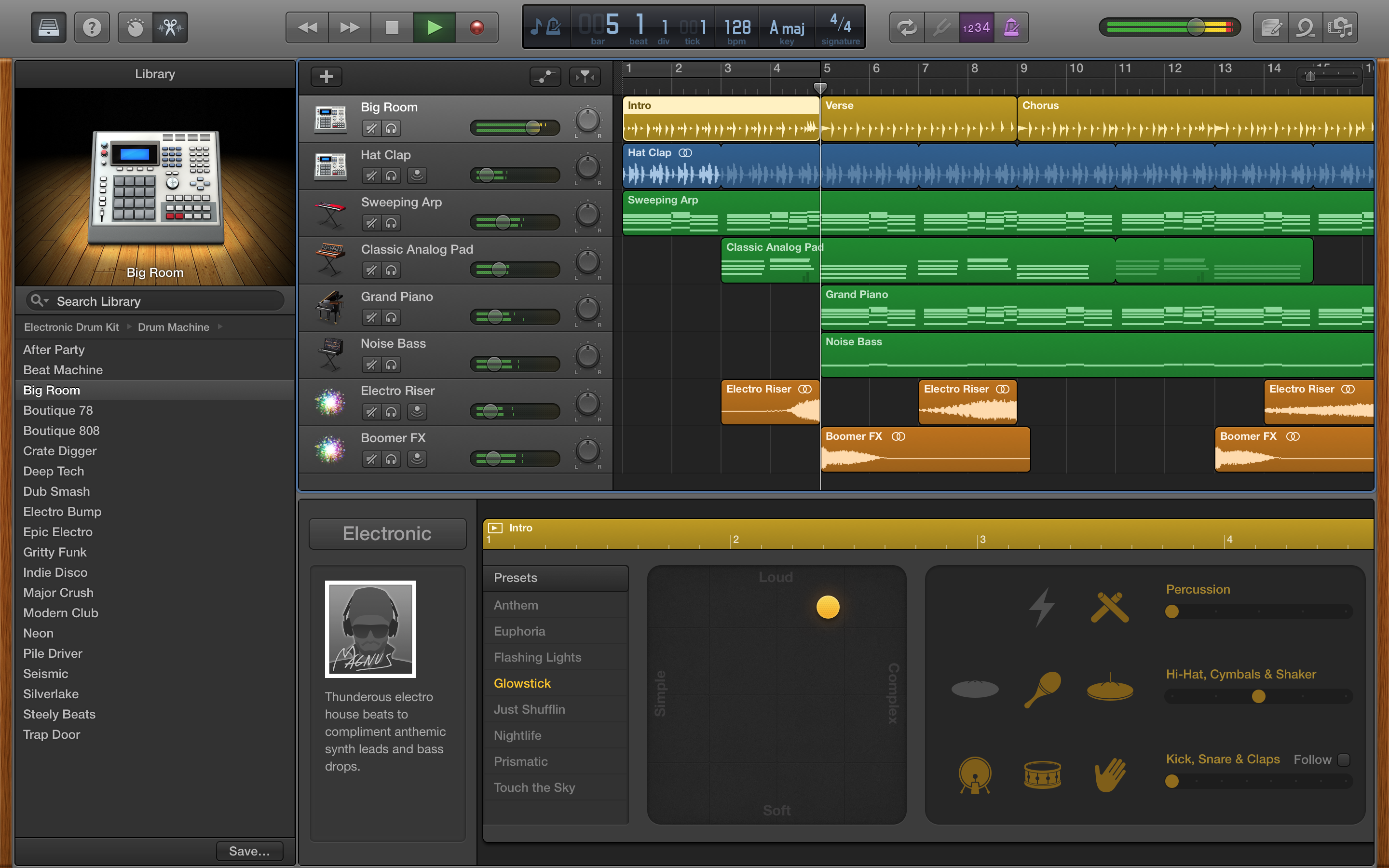 Garageband is often times thought of as Logic's little brother, and while that may be true, its definitely morphing into its own over the years. Garageband is a free DAW that comes with most Apple hardware devices, and the sheer ubiquity of it has made it a household name and introduced far more people to electronic music production.
Like most Apple products Garageband in incredibly easy to use, turning amateurs into music makers in mere minutes. That simplicity makes it a go too DAW for many beginners, especially since it's free. As said by lndr.com:
"Overall, GarageBand is a simple but effective tool for getting started with music production. And if you're reading this on a Mac, you already have it. So make something today!"
Garageband is also available on iOS, making it a invaluable tool when you have an idea on the road but you aren't able use a computer. You can quickly put together the shell of the idea and easily pick it back up on a desktop later.
Garageband is a place for beginners and once they've outgrown it, they can seamlessly graduate to Logic.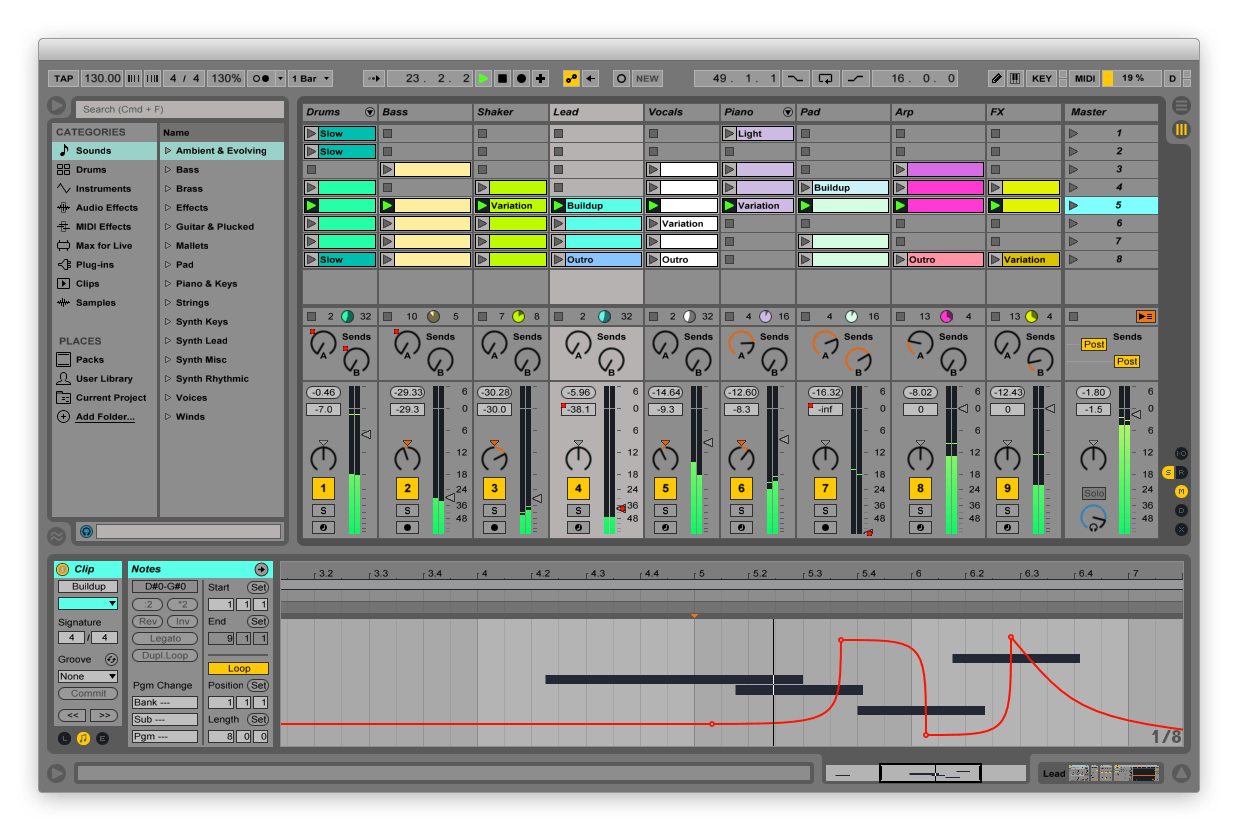 Ableton was one of the first to completely redesign recording interfaces for a digital environment. While previously DAWs mimicked real life studios, Ableton took a different approach and years later that approach has made it a huge success.
Ableton's ease of use puts it up there in popularity as it is the DAW of choice for many music producers. With near boundless sound packs, effects and instruments, music creators have the opportunity to create  masterpieces with insane simplicity
In its 9th version, Ableton has made its browser even more efficient, refined its MIDI editing functions, improved the audio warping engine and enhanced its latency issues.
Steinberg's Cubase is one of the originators of the DAW game, so much so that it actually intended the VST standard that most of your beloved plugins are built on. And year after year Cubase continues deliver groundbreaking innovations to make one of the most revered DAWs amongst audio professional purists.
The latest version of Cubase (8.5) has taken even further steps to make creating good music even more seamless. Features like its MixConsole, advanced MIDI tools, and enhanced Chord Pads makes the creation process a top notch experience.
Another major feature of Cubase 8.5 is VST transit, which allows for musicians to collaborate seamless in the cloud. According to Steinberg's website:
"Embedded into Cubase, VST Transit is Steinberg's new cloud collaboration service. Upload audio and MIDI tracks to cloud storage, continue working from another location and synchronize the changes back to the cloud. Or collaborate on shared projects with friends and band members. VST Transit comes with up to 500 MB free storage space and 1 GB free traffic per month."
VST Transit is a game changer as it
Although many music professionals scoff at FL, formerly known as 'fruity loops', it's hard to deny its popularity in the music production game. Previous versions definitely seemed amateurish, however, it was this ease of use that made it a favorite amongst many popular producers.
The newest version is way more than just an entry level program. FL Studio has turned into a full blown DAW capable of music creation, mixing and editing all at advanced levels. And it does all this while still remaining incredibly simple to compose new ideas for electronic music.
Best of all FL Studio offers 'lifetime free updates', which is a compelling value proposition compared to all the other DAWs out there that charge for incremental updates.
Cakewalk has always been synonymous with making great audio products over the years and Sonar is its flagship DAW. Cakewalk's newest versions come with a highly customizable user interface that creates a great workflow.
Sonar is available in three different options Artist, Professional and Platinum that offer varying levels to fit the wide range of music professionals. It's flagship level, Platinum, offers some amazing features on par with any DAW on the market. Most notably is its Drum replacer, 'Paint to MIDI' and Vocalsync make it an extremely powerful production.
The only drawback to Sonar is that it is only available on Windows (a new announcement says this should be changing soon). But aside from that Sonar is a winner amongst the top DAWs. Additionally the newest model allows users to subscribe to the software which makes it much more accessible to people with tighter budgets.
Studio One has transformed itself into a major player in the DAW game. Over the last 7 years it has really listened to its users to bring them many coveted features.
Studio One 3 was a significant update brining major elements like Step Recording for easy track programming, Scratch Pads that 'provide a powerful and easy way to experiment with different arrangements or versions of a section, without jeopardizing your existing work', and ton of preloaded sounds to create any genre of music.
All this makes Studio One another solid choice for a DAW.